As we slowly thumb up these new reports from the Great Escape, I thought I'd let you have a look at what we could have won. You see, we here at the Porter Report never go about things by halves; our normal procedure is to start off with five quarters, realise we've only got a third in reserve and end up giving it two fifths because we're all out of wallop.
Such was the case with the Wheely Bin Racer. On paper it all looked great… we had a go-cart frame, and by go-cart I'm not chatting pram wheels and an orange box, this is over a grands worth of precision welded gear: disc lock breaks, engine mount, rack and pinion steering… a proper bit of kit and no mistake. Atop of this very steady chassis we'd bolted an illegitimately appropriated Biffa Bin for a cab and a small green Wheely Bin by means of a bonnet… So far, so feral. The finishing touches were applied by some friends of an artistic bent and Hey Pesto! we'd got ourselves a Wheely Bin Racer.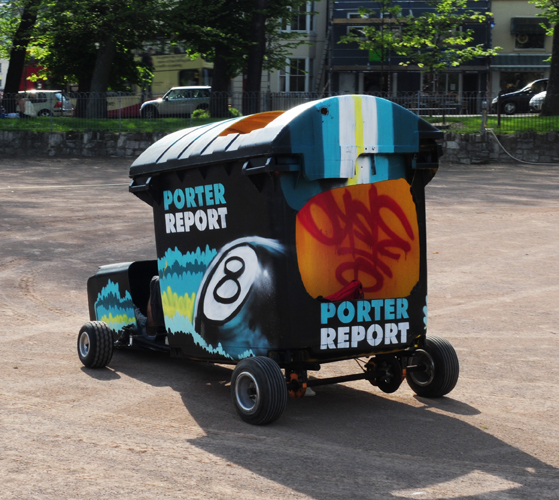 It was our Get Out Of Jail card, our Great White Hope, it was our beautiful bouncing baby. Unfortunately as babies go it was a great big fat fucker, a cumbersome beast of no mean proportion that troubled its beatnick parents greatly: we didn't have enough room to keep it! So it was that we shifted our creation from pillar to post, a glory lap of various back lawns in the BN2 that we hoped would run indefinitely. Our eventual aim was to commit to celluloid the road bound wonders of our brilliant, if slightly improbable, machine and at the same time find use for the "fake wall" El Kapitan found on somewhere on his travels. Better still, if we managed to tie in some kind of collision with the GMC Day Van that's still got a For Sale sign in the window, we'd have Internet Gold and a use for at least three of the "good ideas" that have hung round our necks like lead plated albatrosses.
Sadly, like a lot of babies conceived by creative types it just didn't work out. In recent days the sun has done gone put his hat on and every bike shed, back lawn and beer garden that had, during Winter months, provided much needed succor to our brave little Wheely Bin Racer became a little less available. We soon realised that we were the only ones who cared about Scrap Heap Challenge's Little Brother; people want their patches for picnics and there wasn't a thing on the good green earth that we could do about it! For want of any other option we turned upon our mechanical offspring with ham fists and hacksaws and smashed the fucker to smithereens. As me and Nine Lives left it there, twitching on the side of the road, I couldn't help but think of Judd Nelso and Kevin Costner in Fandango, and that was an image that made me sick out of both ends, I can tell you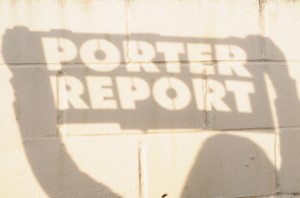 It's not all doom and gloom though; We had dreamt the life. We never managed to live the resulting dream, but we had a bloody good stab at it and that's the main thing. Like I've always slurred to myself when embarking on Adventures Into The Unknown : IT'S BETTER TO HAVE HAD A NICE SUIT AND FUCKED IT THAN TO HAVE KEPT A SHIT ONE CLEAN!. By which I mean, wasted potential can be the best thing in the world as long as it's accompanied by an entertaining yarn.
Yarn aside, if anybody wants to make bare savings on a fully working Go Kart frame… you know where to come. If you're curious about the potential fun you could have with your new-found purchase… watch this